True to its name, AEC maintains its competency in transporting Energy Products
Be it Coal or Petroleum Coke, AEC continues to be the trusted partner to meet the Marine Transportation requirements of our clients in the Energy Sector.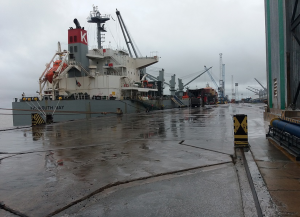 MV Falmouth Bay, the 58,616 deadweight Bulk Carrier built 2014, alongside in North Brazil.
52,500 mts of Bulk Coal being discharged into shore 'hoppers' and on to trucks.
Naresh Khandelwal – Operations
0
0
Lars-Peter Madsen
https://aecarriers.com/wp-content/uploads/2022/07/aec-logo.png
Lars-Peter Madsen
2018-05-01 18:11:47
2018-05-01 18:11:47
True to its name, AEC maintains its competency in transporting Energy Products