Agriculture & Energy Carriers was the first vessel Operator to officially terminate the U.S. trading ban on vessels that previously had called Cuba, by successfully concluding a Charter of a Bulk Carrier that came open in Cuba after discharging and straight thereafter loaded the vessel in USA.
The U.S. previously had a 180 days ban to call U.S. ports on vessels that had called Cuba (except for U.S. Government approved cargoes).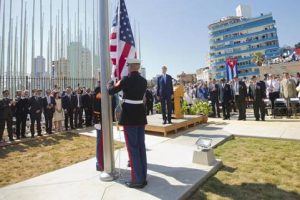 'Reacting quickly to the news from the U.S. Treasury Department, concerning the amendment of the Cuba sanctions, AEC chartered a 32,633 dwat 2011 built Bulk Carrier that was spot in Cuba for delivery in in Virginia to load a full cargo of grains' says Chartering Manager Claas Grafe, and he continues 'In close coordination with the agents, coast guard, and the Shippers, the vessel arrived already on the 25th of October 2016 and sailed fully loaded on the 28th of October 2016.'
0
0
Lars-Peter Madsen
https://aecarriers.com/wp-content/uploads/2022/07/aec-logo.png
Lars-Peter Madsen
2016-11-15 00:31:15
2016-11-15 00:31:15
AEC officially terminates the 53 years Cuba ban for calling U.S.A.