The long term AEC period vessel, MV Four Diamond, 34,053 dwat Box Shaped Bulker, Built 2011, discharged a full cargo of Petcoke in Teesport on the River Tees. The discharging was performed with shore cranes and grabs via hoppers into trucks.
The cargo had been loaded in Wilmington, Delaware for account Messrs Energy.

After Teesport the vessel proceeded to Belgium to load Steel Products for the U.S. Gulf.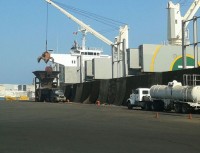 MV Daiwan Wisdom, a 31,960 dwat Hakodate Built 2012, on charter from Messrs Pacific Basin, completed discharging of a full cargo of 30,000 mts Pig Iron in Mexico.

The cargo had been loaded in Brazil with shore gantry cranes and buckets and was discharged in Mexico with shore grabs specially designed for Pig Iron.
AEC has vast inhouse experience with Pig Iron shipments and expect to increase the volumes in this segmen...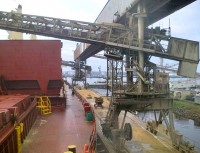 AEC's period vessel MV Assimina II, a 30,540 dwat Trader Type Built 2007, loaded a cargo of Soya Beans at Norfolk, Virginia, U.S.A. for account Agri Commodity Trade.
The cargo was loaded with spout at the Perdue Terminal. The vessel arrived Vennezeula in the beginning of February for discharging.
more
Comments are closed