Agricultural & Energy Carriers (AEC) became the first company to have carried agriculture products in bulk to the port of Huasco, Chile. Drawing on its considerable technical resources and professional experience, AEC designed a complex stowage plan to transport four different grades of grains: Soybean Meal Pellets (6,174.39 mts), Sorghum (10,139 mts), Maize (14,613 mts) and Soybeans (2,400.3 mts).
In the beginning of September 2011 the grains were loaded at the River Plate port San Lorenzo, Argentina, at two terminals being El Transito and Quebracho. The total weight of the assembled cargo was 33,326.69 metric tons and required an artificial separation in one hold in order to accommodate all cargo grades.
AEC provided a first class performance of the voyage with the vessel MV Four Rigoletto, a 34,404 mt Deadweight Single Deck Bulk Carrier built at SPP Shipbuilding, South Korea in April 2011
belonging to Four Handy Limited (Premuda Group). This is the first time such agricultural products have been discharged at Huasco, a notable achievement for both the Head Charterers, Head Owners, Shippers, Receivers and AEC.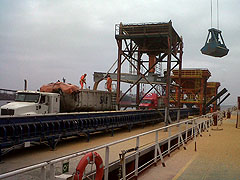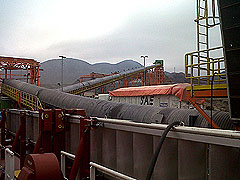 0
0
Lars-Peter Madsen
https://aecarriers.com/wp-content/uploads/2022/07/aec-logo.png
Lars-Peter Madsen
2011-09-29 17:45:52
2022-12-13 08:39:46
AEC – the first to have carried agriculture products in bulk to the port of Huasco, Chile