0
0
Lars-Peter Madsen
https://aecarriers.com/wp-content/uploads/2022/07/aec-logo.png
Lars-Peter Madsen
2014-05-22 14:48:15
2014-05-22 14:48:15
Logs loaded on MV AEC Diligence
MV Anatoli, a 47,166 dwt Bulk Carriers chartered by AEC from the reputable Head Owners Mamaras Navigation of Greece, loaded a cargo of Bulk Wheat at Cargill's Terminal in Houston under the Port Agency of Holman Shipping, Inc.
During the loading of the vessel a courtesy visit was arranged by AEC for the following friends:
– Former Houston Mayor Bob Lanier's wife, Mrs. Elyse Lanier, who also previously served as Port Commissioner of the Port of Houston.
-Mrs. Courtney Sarofim, daughter of Mrs. Lanier
-Mrs. Michelle Symonette and Mr. Craig Symonette. Mr. Symonette is the son of the first Premier of The Bahamas, Sir Roland Symonette and is an active member of the Nassau community.
AEC have ordered the vessel to Brazil supplying the Brazilian wheat milling industry.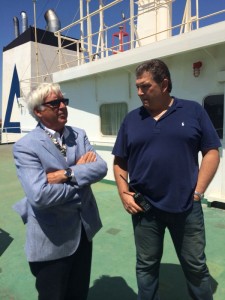 Mr. Symonette exchanging views with Captain Theodoros Krimizis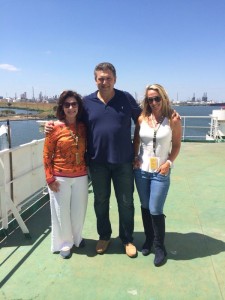 Captain Theodoros Krimizis with the rare female visit of Mrs. Lanier and Mrs. Sarofim
0
0
Lars-Peter Madsen
https://aecarriers.com/wp-content/uploads/2022/07/aec-logo.png
Lars-Peter Madsen
2014-05-06 17:12:49
2014-05-06 17:12:49
Prominent visit to AEC vessel in the Port of Houston