AEC's Time-Chartered vessel MV Trammo Stranton. 38,629 mt Dwat built 2015 boxshaped with 30 mts cranes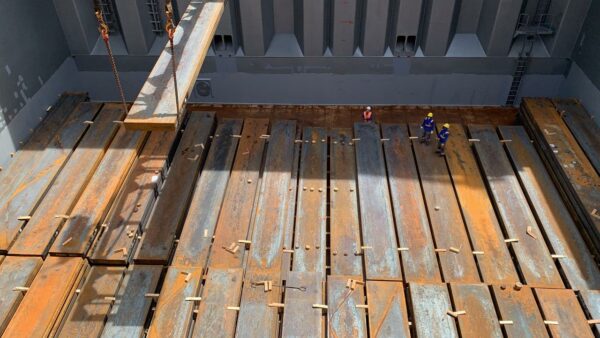 Steel slabs neatly loaded and stowed in Hold number 3 in Pecem, Brazil. Total intake about 33,000 mts of steel slabs. The shipment is for discharging at Santos, Brazil i.e. a short sea voyage.
Had the cargo gone on trucks it would have taken in excess of a 1,000 trucks to move the slabs to Santos.
https://aecarriers.com/wp-content/uploads/2022/07/aec-logo.png
0
0
Lars-Peter Madsen
https://aecarriers.com/wp-content/uploads/2022/07/aec-logo.png
Lars-Peter Madsen
2021-01-28 17:09:12
2021-01-28 17:09:12
BRAZILIAN COASTAL STEEL SLABS SHIPMENT