Dry-docking of MV AEC Diligence, April 2015
The fleet vessel, MV AEC Diligence 31,189 deadweight, built 2002, completed a successful dry-docking and special survey in April 2015.
AEC's technical managers, SeaQuest attended the vessel whilst in dry-dock and supervised the high quality maintenance carried out.
Apart from the usual dry-dock works carried out, all cargo spaces were treated to maintain the usual, high standards, which AEC believes its customers and other stakeholders ought to expect.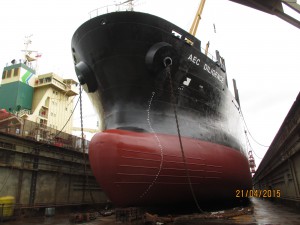 Since the inception of AEC and SeaQuest managing the vessel, she has had no off-hire and it was pleasing to note that, at the first loading port subsequent to the dry-docking, a Port State Control inspection was carried out on board, which the vessel passed without any deficiencies.
AEC's continues to pride itself of its ongoing commitment to provide its customers with quality transportation services.
Thomas P. Mayr – S & P and Peter  J. Pecry – Head of Operations
0
0
Lars-Peter Madsen
https://aecarriers.com/wp-content/uploads/2022/07/aec-logo.png
Lars-Peter Madsen
2015-04-28 15:05:30
2015-04-28 15:05:30
Dry-docking of MV AEC Diligence, April 2015