AEC load rare cargo grade
The AEC fleet vessel, MV Giovanna 34,146 dwat Built 2011, loaded Olivine Sand at Aaheim, Norway. It was a short quick voyage for discharging in Gijon, Spain.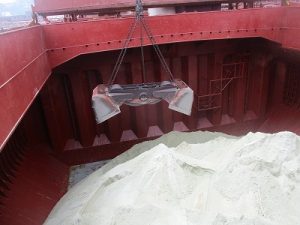 Olivine sand. Sand composed almost exclusively of olivine grains is rare. Olivine is a common rock-forming mineral of certain igneous rocks.
0
0
Lars-Peter Madsen
https://aecarriers.com/wp-content/uploads/2022/07/aec-logo.png
Lars-Peter Madsen
2018-09-11 08:32:53
2018-09-11 08:32:53
AEC load rare cargo grade