AEC continues its expansion in the Far East transporting railway cars
MV AEC Belief, the recently acquired 33,540 dwat 2004 built bulk carrier, alongside at Qingdao, China loading her cargo of railway cars bound for Port Hedland, Australia.
Port Hedland is the world's biggest bulk terminal with much of the demand coming from China. China's recent increase in buying of iron ore is driving demand and the need to expand capacity has in turn led to an increase in infrastructure spending for port and rail facilities.
MV AEC Belief's open hatch, box-shaped holds makes her an ideal carrier for such a cargo.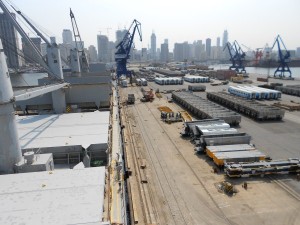 0
0
Lars-Peter Madsen
https://aecarriers.com/wp-content/uploads/2022/07/aec-logo.png
Lars-Peter Madsen
2013-10-14 13:55:49
2013-10-14 13:55:49
AEC continues its expansion in the Far East transporting railway cars