Assisting the Drybulk market is the recovering coal volumes. However, by the end of March Cyclone Debbie flooded much of the rail network between coal mines and ports in Queensland, Australia which is obstructing the Queensland coal export. This despite Hay Point port has reopened.
Aurizon operates four rail networks in Queensland: Goonyella, Blackwater, Newland and Moura.
Blackwater, Newland and Moura lines, connect mines to the ports of Gladstone and Abbott Point.
The three networks are expected to reopen between April 9 and April 14 2017.
The Goonyella coal rail system, which connects mines to Hay Point, is not expected to reopen until May.
This has meant that the Met coal prices surged 32% overnight on Wednesday the 5th of April 2017, as the world's largest met coal producer declared force majeure due to logistical problems caused by Cyclone Debbie.
The declaration of force majeure by major met coal producers in Queensland has resulted in global steelmakers looking to source non-Queensland met coal supply. According to Macquarie, Queensland accounts for 48% of met coal exports, with New South Wales also in Australia accounting for 19% and the US accounting for 12%.
For shipping it means more Ton-Miles which could add heat to the recent Drybulk market rally. Coal exports from US Hampton Roads are up for sixth straight months with a total of 3.32 mts in March, up 19% from the prior month and up 112% year-on-year.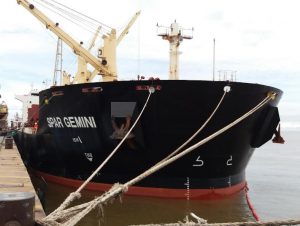 Fortunately, AEC had no coal shipments scheduled out of Queensland, Australia. In the meantime, during the first week of April, the fleet vessel, MV Spar Gemini 52,987 dwt with 4 x 36 mt cranes and 4 x 13 cmb grabs, discharged a full cargo of coal in Brazil.
0
0
Lars-Peter Madsen
https://aecarriers.com/wp-content/uploads/2022/07/aec-logo.png
Lars-Peter Madsen
2017-04-07 19:25:26
2017-04-07 19:25:26
A Cyclone Of Coal !