AEC charters in Fednav vessel and also concludes further two charter deals with D.S. Norden
AEC chartered in Messrs Fednav's vessel MV Federal Kibune (36,824dwt Built 2012) to carry a cargo of bulk wheat to from Sorel, Canada to Brazil.
With Messrs D.S. Norden, AEC chartered in MV Nord Soul (36,781dwt Built 2010) for a trip from the Mediterranean to Brazil and in turn chartered out AEC's period vessel MV Four Diamond (34,53dwt Built 2011) for balance period.
'We are pleased with the good relationships we have built around the world, which allow us to effectively arbitrate our requirements and fleet' says Mr Jesper Lollesgaard, Chartering Manager at AEC, London.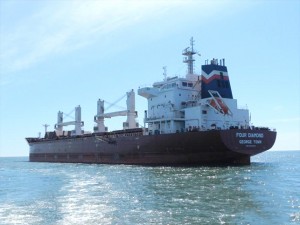 Mv Four Diamond
0
0
Lars-Peter Madsen
https://aecarriers.com/wp-content/uploads/2022/07/aec-logo.png
Lars-Peter Madsen
2013-05-02 11:51:41
2022-12-13 08:39:28
AEC charters in Fednav vessel and also concludes further two charter deals with D.S. Norden